Afterworks: in the groove at the Relais de la Malmaison!
Published on 24 April 2017, dans Hotel
At a time when the professional environment seems to consist only of rivalry, competitiveness and a denial of human values, it's good to take a little time out after work to build bonds, strengthen team spirit and bring newcomers into the fold. The Relais de la Malmaison invites you to make an advance appointment to do so. Running until the end of the summer, afterwork is a great opportunity to get together with colleagues to chat, get to know each other better and discover what you share in common. The afterwork concept has become very popular recently. Parties with colleagues in a welcoming environment outside of the professional context are a sought-after source of relaxation and socialising. The Relais de la Malmaison Bar invites you to discover its musical afterwork in a welcoming lounge setting just 15 minutes from Paris. Don't wait for the weekend to party; the Relais de la Malmaison afterworks await you from 18:30 to 21:30 one Thursday each month from April to September.
Relaxing with music at our afterworks
Indulge yourself in a relaxing and upscale setting in the midst of a warm and welcoming ambience with this musical interlude filled with the sounds of pop and jazz. JV ART, a company specialising in musical events, will bring you the rhythm of jazz classics, the best of folk and the great American standards featuring piano and superb vocal harmonies. The music will entertain and relax you but, unlike a club in which the sound drowns out all conversation, here you can enjoy chatting with your colleagues without shouting to be heard! You'll enjoy a musical atmosphere conducive to talk and warm moments free of hierarchical barriers. Come and get to know your colleagues in a different context.
Our plancha, satisfy your appetite while socialising with colleagues
If music softens the mood, it also stimulates the appetite! The Relais de la Malmaison afterworks offer tempting and tasty aperitifs that seduce the eye as much as the palate. Discover our mouth-watering appetisers comprised of shrimp tempura, green curry skewers, aubergine caviar, chorizo, ham: a healthy and light tapas to delight. Our chef creates irresistible appetisers especially to accompany precious moments of conviviality. You'll enjoy them all the more in the idyllic setting of the Relais. To make the gourmet pleasures even better we include a glass of Moët Champagne as part of our aperitif package. Some sparkling bubbles to launch the evening in the most celebratory of ways!
Try your luck and enter our great contest to win a bottle of Moët Ice!
This subtle nectar will certainly fulfil your expectations. Moët and Chandon, the most prestigious Champagne brand and the most popular in the world, have been producing their prestigious and superb sparkling wines since the mid-18th century. They have an inimitable identity. If you wish to participate, nothing is easier. You simply need to answer 2 questions. A large prize draw will discover the winner of a bottle of Moët Ice, the first Champagne designed to be enjoyed over ice.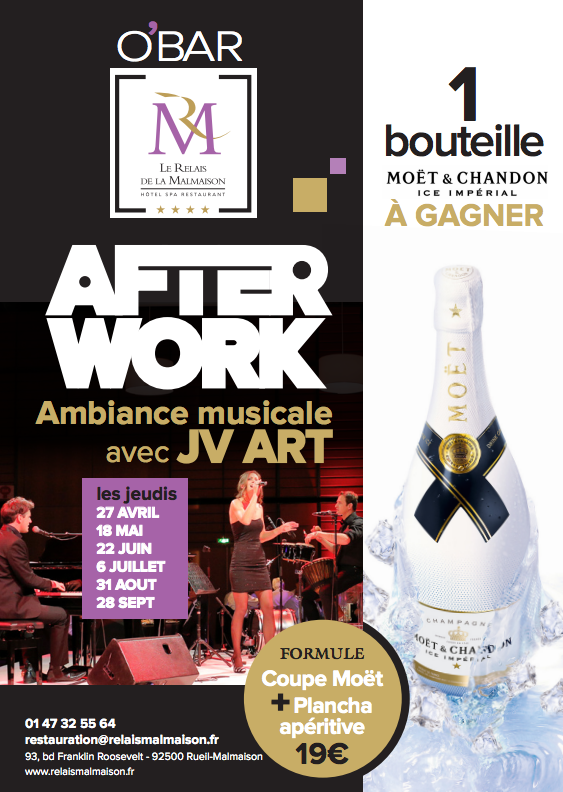 ---
Le Relais de La Malmaison, a 4 star hotel at the heart of Rueil-Malmaison, a few steps from Paris